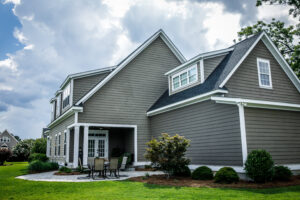 Putting a Good Roof Over Your Head.
Call Us for a Free Estimate Today.
How your local roofing contractors tackle the job
Vancouver residential roofing contractors can help you whether you're looking to install asphalt shingles, a metal roof, or wood shakes and shingles. We ensure that they are installed correctly with the best underlay system, especially as Vancouver's Lower Mainland lives up to its "Wet Coast" moniker.
A residential roofing contractor can help you choose between any roofing types, as this is largely determined by your overall budget and what style suits your property. Asphalt shingles are one of the most affordable solutions, so they are so abundant throughout North America. For one of the more expensive options, synthetic tiles work well for homes that wish to emulate the terracotta tiles of Europe and Mexico. Often, these synthetic tiles are one of the more eco-conscious options for homeowners.
Why Choose Us As Your Roofing Contractor?
Sure enough, there are many other roofing contractors out there to choose from, and you might find it hard to choose what's best for you. As a reputable roofing company, we're continuously improving our services to keep our clients to the utmost satisfaction. If you're wondering whether we're the right one for the job, here are some reasons why choose us as your Roofing Contractor in Vancouver.
Experienced Contractors
With over 20 years of being in the industry, rest assured that our professional contractors will have all the experience needed for any roofing job. All Coast Roofing's long-term reputation has brought confidence to every client we've worked with, knowing that their roofs are in safe hands.
Affordable Services
Good quality services don't always have to be so expensive. Roofing is a vital part of every home; however, we understand that most people won't have that many resources to spare financially, so we aim to provide our services reasonably affordable. Having a good roof over your head doesn't have to break the bank, and we make sure that you'll be getting your money's worth with our excellent services.
Highly Accessible
We have been part of most people's lives here in Vancouver, and we aim to continue putting a good roof over your heads. We're continuously striving to provide responsive, immediate action, and highly accessible services for people here in Vancouver.
Superior Craftsmanship
There's a reason why All Coast Roofing has remained relevant and a driving force in the roofing industry for over two decades and counting. We never compromise on our work and maintain superior craftsmanship to provide the best possible job for every client. No matter how big or small the job is, rest assured that you'll be getting guaranteed quality craftsmanship from the services here at All Coast Roofing.
Find out how we can help you with your residential roofing needs in Vancouver, North Vancouver, West Vancouver, or Burnaby today.
| | |
| --- | --- |
| | No Job Too Small |
| | Our roofing services include residential and commercial roofing, emergency roof repairs, gutter installation and cleaning, property maintenance, moss treatments, solar panel installation and more. |

| | |
| --- | --- |
| | Quality Guaranteed |
| | All Coast Roofing's commitment to excellence is highlighted by a strong BBB rating and many 5 star reviews online. Discover what our roofing clients have to say about our work today. |

| | |
| --- | --- |
| | Roofing Near You |
| | Servicing large parts of Metro Vancouver, our roofing experts know what it takes to keep a quality roof over your head whether you're in Vancouver, Burnaby, or North Vancouver. |

What Clients Say
Alex and his team did a great job on re-roofing my recently purchased Vancouver Special. Excellent communication and AllCoast did extra work that I requested without problems (blowing insulation into attic space). He provided different quotes so I could compare options and he kept to his quote. Very happy with AllCoast and would recommend them.

J D


A very large tree fell on our roof crushing the gable and the top edge of the roof. Coast Roofing was my first call because of the good online reviews. Alex and his crew were friendly and did a great job. Also had them change the cedar siding on one side of the house and the roof redone on a large shed. All the work was done above expectations.

Terry Review

Get Roof Ready
 Visit Us
3478 Pandora St, Vancouver, BC V5K 1W8

 Call Us
(778)-229-0250

 Contact Us
office@allcoastroofing.ca