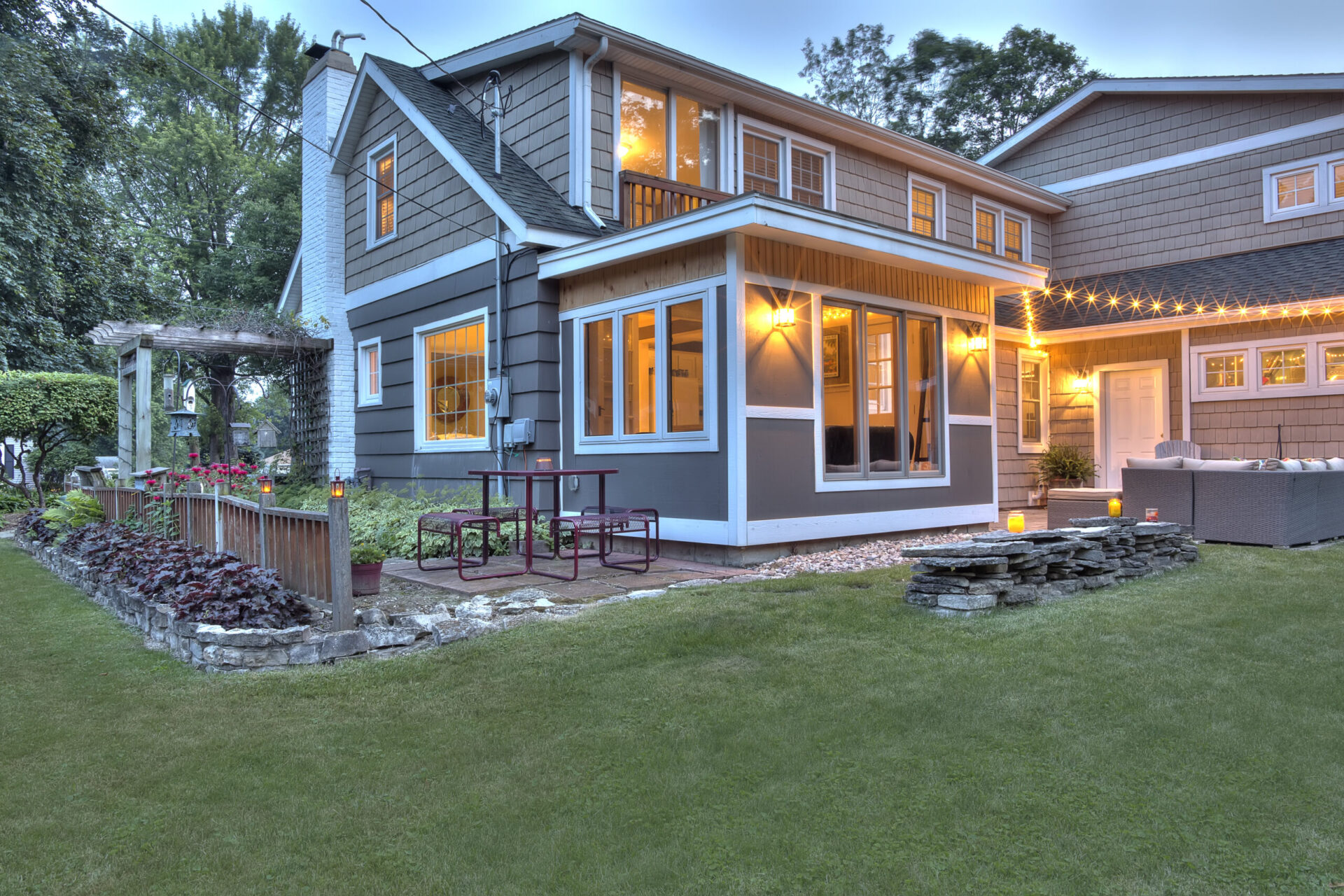 Want Siding Service In Vancouver? 
Call Us for a Free Estimate Today.
What is siding?
Siding, also known as wall cladding is the protective material that's attached to the exterior side of a wall on a house or other building. Along with your roof, the siding forms a protective defense against elements such as the sun, heavy rain and snow, as well as extreme temperatures, creating a more comfortable indoor living environment. With the option to choose from a variety of natural and artificial materials, siding can also enhance the beauty and functionality of your building.
What are the types of popular siding selections in Vancouver?
1. Fibre-cement siding (Hardie) in Vancouver - roughly starts at $9.00 per square foot Aluminum composite materials (ACM) in Vancouver - roughly starts at $14.00 per square foot
2. Stone siding in Vancouver - roughly starts at $22.75 per square foot
3. Vinyl siding in Vancouver - roughly starts at $6.25 per square foot
4. Wood siding in Vancouver - roughly starts at $11.00 per square foot
5. Aluminum longboard siding (ALS) in Vancouver - roughly starts at $14.50 per square foot.
How All Coast Roofing tackle the job
Like everything else, siding costs in Vancouver have gotten expensive, especially when it's compared to the vinyl siding prices across Canada. Needless to say, here at All Coast Roofing, we are geared towards bringing savings to our customers, and our team of specialists handles all avenues of roof construction, including the replacement, repair, and installation of commercial and residential siding.
Since siding wears down from harmful weather elements like rain, snow, and harsh winds, it's one of the most important elements of a building's exterior in Vancouver.
So, whether the outdoor surface of your home or business is desperately in need of a repair or you simply want to enhance the curb appeal of your structure, All Coast Roofing is your one-stop certified contractor for siding in Vancouver.
While many first-time home and business owners will start by Googling "siding repair near me" to learn more about the specialty on the hunt for the best possible prices, our team is readily available to answer your roofing and siding questions and you can request a quick quote by phone as well!
Advantages of New Siding Installation
If you're thinking about getting a quote for siding installation but still needs some convincing, here are some of the advantages of new siding installation to help you decide whether it's worth it for you or not.
Instantly Enhances Your House's Visual Aesthetic
One of the easiest and most cost-effective ways to instantly enhance your house's aesthetic is installing new sidings. Having the opportunity to try different color schemes without re-constructing your home is a huge plus and should be taken advantage of. If you do repairs and upgrades for your automotive, why not do the same for your house too.
Drastically Improve the Value of Your Home
For those planning to move out sooner or later, you should be thinking about driving up your home's value. An easy way to drive up attention to your house and drastically increase its value is by investing in a new siding installation. You'll get more than what you pay for the roofing service and contractors.
Get Your Money Back through Energy Efficiency
If you're looking for a more practical reason, here it is. Siding is an integral part of every house for a reason, as they function as a shield for your home's exterior structures. It keeps your home from weather conditions and other damaging factors, plus new sidings improve insulation, making it more efficient on energy usage by fixing any underlying leakage issues and ventilation.
Prevent Structural Damages Caused By Old Siding
Your house acts as a whole, and if one thing is damaged or old, other parts will undoubtedly be affected by that. This is why siding should never be neglected, especially if you already see signs of damage and repair requirements. By taking immediate action, you'll prevent future structural damage to your house.
How to know when it's time to invest in a siding repair?
While siding that has undergone extensive damage due to weather or neglect will require a full replacement, other smaller types of damages can be repaired by siding installers in Vancouver. That being said, knowing when to repair your siding will save you from having to pay for a full replacement and preventing more costly problems in the future. So, how do you know when to make the call?
1. Minor holes and cracks: These damages are small and can easily be repaired by an experienced professional.
2. Loose siding: Whether your siding starts to come apart due to strong winds or poor installation, the quality and functionality can be repaired if you catch the issue quickly after it happens.
3. Extensive damage: If a tree falls on your home during a windstorm or your exterior catches fire, these siding damages are irreparable and will require a full replacement to protect your home from further moisture damage.
4. Bubbling and mold: Mold growth and bubbled siding are often a result of problems hiding underneath the siding. Sometimes replacement is cheaper than the worst-case scenario of costly interior leaks and foundation damage.
5. Fading and worn: These conditions are often a result of siding near the end of its life. In addition to bringing on safety risks, worn-out siding is ugly to look at and will affect the resale value of your property, even in the hot Vancouver housing market.
Why Choose All Coast Roofing As Your Siding Contractor?
Sure enough, you'll be able to find many roofing contractors out there to choose from, and you might even have a hard time choosing which one would be best for you. As we can only speak about what we can offer as a formidable roof contractor, here are some things we do that separate us from the rest.
1. Get Easy Access
All Coast Roofing ensures that we keep our doors open and available for residents of Vancouver. With different ways to reach out to us online, phone numbers, or by mail, we keep being active on all streams so that everyone needing our services won't experience any inconvenience.
2. Experienced Contractors
With more than 20 years in the industry, you can rest assured that we've seen every scenario possible regarding roofing. We use that experience to improve our services and build that knack for fixing our clients' issues as quickly and efficiently as possible to make their lives a little easier.
3.Guaranteed Quality Service
Just because we've garnered a lot of consistent traction for a very long time means we're already slacking off on making our clients happy. We set a high bar in quality standards to ensure everyone a guaranteed quality service, no matter how big or small the project is.
| | |
| --- | --- |
| | Quality Guaranteed |
| | All Coast Roofing's commitment to excellence is highlighted by a strong BBB rating and many 5 star reviews online. Discover what our roofing clients have to say about our work today. |

| | |
| --- | --- |
| | Siding Contractors Near Me |
| | Servicing large parts of Metro Vancouver, our roofing experts know what it takes to keep a quality roof over your head whether you're in Vancouver, Burnaby, or North Vancouver. |
Frequently Asked Questions

What Clients Say
Glad we found Alex and his team at All Coast Roofing. He was one of the only roofing companies on the North Shore to call back and luck would have it he would be in the area that week and so was happy to squeeze us in after another project. He is knowledgeable, professional, responsive, and even helped remove debris from our gutters free of charge. He also spent time inspecting the rest of the roof (after minor roof repair from leaky plumbing stack) and providing his opinion on what could be improved, when, and in order of priority. Will use again for sure and glad we stumbled across All Coast Roofing – would recommend. Thanks Alex and team.

Jean-Marc Daniel


All Coast Roofing was very professional, responsive and friendly. The prices were very fair for the work that was required on our roof and we were satisfied with the results. Alex was very helpful and catered to our roof's specific needs. His team was able to complete the work as quoted. We would definitely hire them in the future for our roof work as we had a very positive overall experience.

Jagroop S (Jag)

Get Roof Ready
 Visit Us
3478 Pandora St, Vancouver, BC V5K 1W8

 Call Us
(778)-229-0250

 Contact Us
office@allcoastroofing.ca