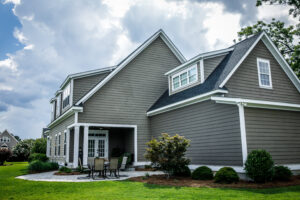 Putting a Good Roof  Over Vancouver 
How Your Local Roofing Contractors Tackle The Job
If you're someone who lives in Vancouver, you already know how cool, windy and humid it could be, especially in the cold winter. Regardless of the quality of roofs you have, they are still vulnerable to damage in rare extreme weather conditions. Even those mild, windy days add up after a while. We aim to bring comfort and ease of mind to the neighborhoods of Vancouver. All Coast Roofing is the most accessible roofing company you'll find that will cater to any amount of inconvenience you have in terms of roofing.
With over 20 years of experience, we have worked with thousands of satisfied clients. So many in the community trust us because of the amount of time we spend on our crafts. We believe that our job as roofing contractors brings a staple part to families' homes, which keeps them safe and warm on a nightly basis. With our unwavering service, we've contributed to improving the lives of many families living in Vancouver.
We strive to be a one-stop-shop for all your roofing concerns in Vancouver. We provide services on commercial roofing, emergency repairs, gutter installation, landscaping, residential roofing, maintenance, siding, and solar panel installation, torch-on roofing, and any other repair concerns about roofing. We understand the need for assistance when it comes to finding out issues about your roof and what actions are needed to be done. This is why we offer free estimates for our clients in Vancouver.
We've got all your bases covered, whether you're dealing with roof leakage, missing shingles, granular loss, and other roofing repair jobs. We make sure that the people we hire are well-equipped with industry knowledge and experts in their field. This ensures our methods are passed on, and we persist in providing superior roofing service in Vancouver.
Roofs are an integral part of every home, and you should never compromise on the quality of the materials used and the craftsmanship of how it was built. At All Coast Roofing, you can rest assured that your concerns are handled very well as you'll be working with experts who have a deep understanding of roofing and certainly know what they're doing. If you're wondering where you could find the answers to your roofing problems, you may visit us here at All Coast Roofing and get your free estimate.
| | |
| --- | --- |
| | No Job Too Small |
| | Our roofing services include residential and commercial roofing, emergency roof repairs, gutter installation and cleaning, property maintenance, moss treatments, solar panel installation and more. |

| | |
| --- | --- |
| | Quality Guaranteed |
| | All Coast Roofing's commitment to excellence is highlighted by a strong BBB rating and many 5 star reviews online. Discover what our roofing clients have to say about our work today. |

| | |
| --- | --- |
| | Roofing Near You |
| | Central Lonsdale, Deep Cove, Delbrook, Keith Lynn, Lions Avenue, Lower Lonsdale, Lynn Creek, Lynn Valley, North Vancouver, Seymour and Upper Capilano |
Frequently Asked Questions

What Clients Say
All Coast Roofing was very professional, responsive and friendly. The prices were very fair for the work that was required on our roof and we were satisfied with the results. Alex was very helpful and catered to our roof's specific needs. His team was able to complete the work as quoted. We would definitely hire them in the future for our roof work as we had a very positive overall experience.

Jagroop S (Jag)

Get Roof Ready
 Visit Us
3478 Pandora St, Vancouver, BC V5K 1W8

 Call Us
(778)-229-0250

 Contact Us
office@allcoastroofing.ca