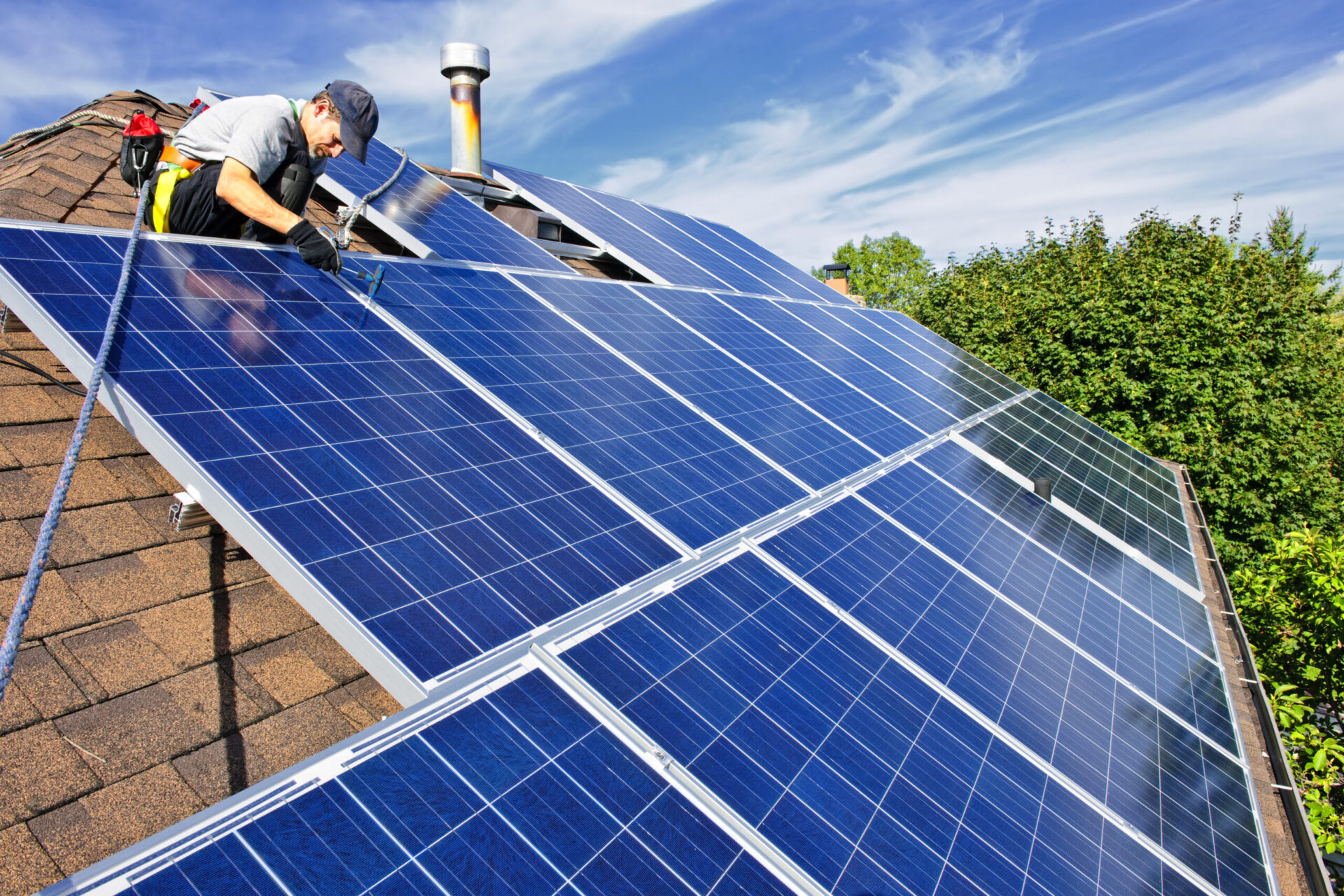 Need to Install Solar Panel in Vancouver?
Call Us for a Free Estimate Today.
How your local roofing contractors tackle the job
Although commonly known as solar panels, the correct name for the panels popping up across the country is actually a solar photovoltaic system—or solar PV system for short. 
Whether you're looking to install solar panels in a bid to go "off-the-grid" by producing and storing your own energy solutions or plan to a solar thermal system to save on your annual gas bill, there are a number of considerations that homeowners must know prior to embarking on their solar panel installation project. Some of these considerations are: 
The Cost: Turnkey installations for PV solar systems is approximately $3,000. At the current average costs for electricity in BC, it will take you up to 25 years to recoup the entire cost of installation. Costs can increase if you plan to tie into BC Hydro's Grid as they will have to inspect the installation prior to approval. 
Battery Storage VS Grid Tied: As mentioned above, if you plan to tap into the Grid with your PV system, BC Hydro requires an inspection of the unit's installation. Whereas, if you are planning to store your own power in a battery like the Tesla Powerwall, you don't require additional inspections. However, these home-based batteries come at a cost ($5,000 - $7,000 according to Energy Sage). 
Professional Installation: Having a professional perform any electrical-based project in your home is a must to ensure that the project is done safely and will last a lifetime. Solar PV systems are no different. Contact the experts at All Coast Roofing to get your Solar Panel project started today.
| | |
| --- | --- |
| | No Job Too Small |
| | Our roofing services include residential and commercial roofing, emergency roof repairs, gutter installation and cleaning, property maintenance, landscaping, solar panel installation and more. |

| | |
| --- | --- |
| | Quality Guaranteed |
| | All Coast Roofing's commitment to excellence is highlighted by a strong BBB rating and many 5 star reviews online. Discover what our roofing clients have to say about our work today. |

| | |
| --- | --- |
| | Roofing Near You |
| | Servicing large parts of Metro Vancouver, our roofing experts know what it takes to keep a quality roof over your head whether you're in Vancouver, Burnaby, or North Vancouver. |

What Clients Say
Excellent service. Had my chimney re-pointed and was impressed with Alexander and his team. They showed up when they said they would and were very efficient with their work. Highly recommend All Coast if you're looking to get some work done on your roof and/or chimney.

Eric Glaser


All Coast Roofing was very professional, responsive and friendly. The prices were very fair for the work that was required on our roof and we were satisfied with the results. Alex was very helpful and catered to our roof's specific needs. His team was able to complete the work as quoted. We would definitely hire them in the future for our roof work as we had a very positive overall experience.

Jagroop S (Jag)


A very large tree fell on our roof crushing the gable and the top edge of the roof. Coast Roofing was my first call because of the good online reviews. Alex and his crew were friendly and did a great job. Also had them change the cedar siding on one side of the house and the roof redone on a large shed. All the work was done above expectations.

Terry Review

Get Roof Ready
 Visit Us
3478 Pandora St, Vancouver, BC V5K 1W8

 Call Us
(778)-229-0250

 Contact Us
office@allcoastroofing.ca