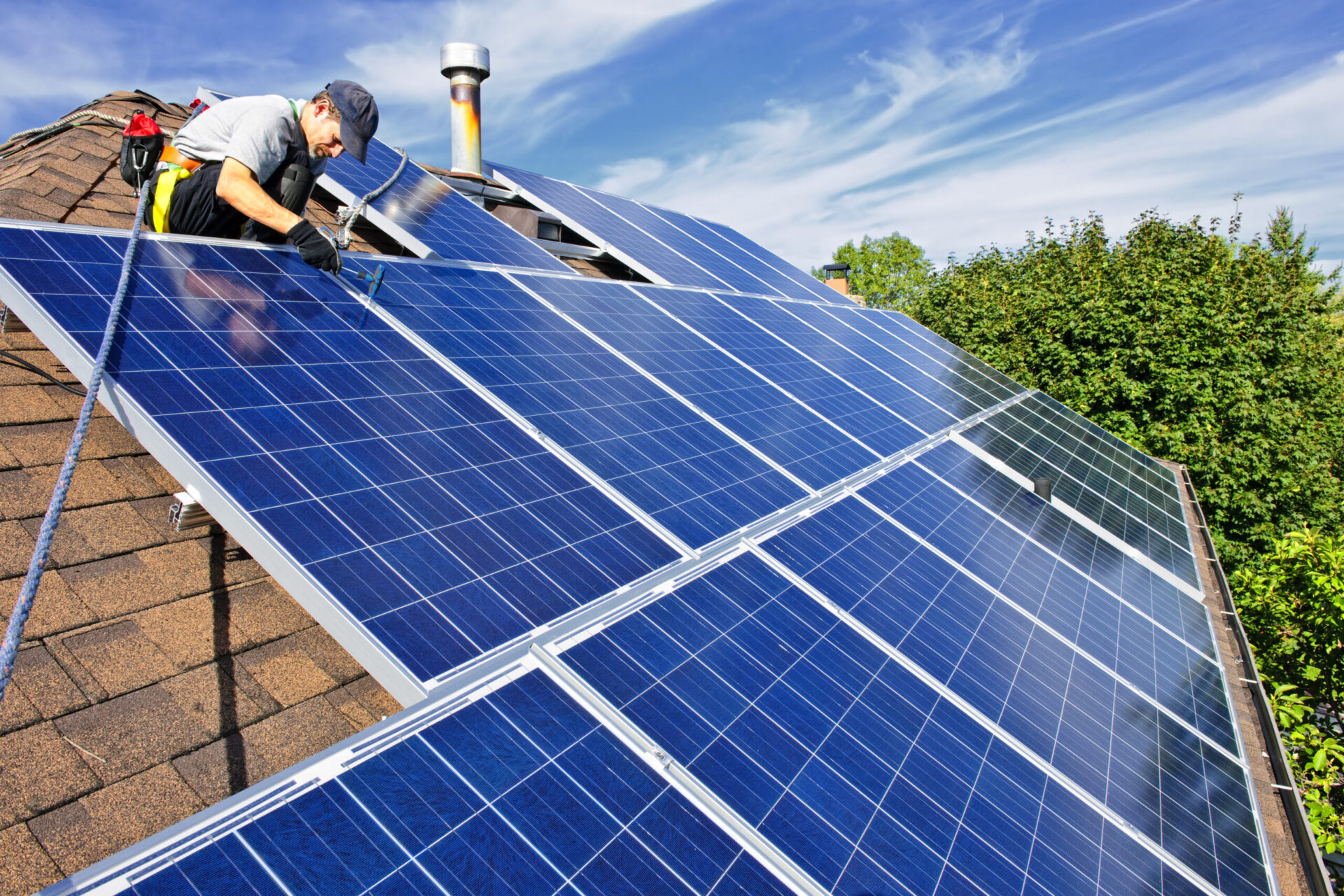 Need to Install Solar Panel in Vancouver?
Call Us for a Free Estimate Today.
How your local roofing contractors tackle the job
Although commonly known as solar panels, the correct name for the panels popping up across the country is actually a solar photovoltaic system—or solar PV system for short. 
Whether you're looking to install solar panels in a bid to go "off-the-grid" by producing and storing your own energy solutions or plan to a solar thermal system to save on your annual gas bill, there are a number of considerations that homeowners must know prior to embarking on their solar panel installation project. Some of these considerations are: 
The Cost: Turnkey installations for PV solar systems is approximately $3,000. At the current average costs for electricity in BC, it will take you up to 25 years to recoup the entire cost of installation. Costs can increase if you plan to tie into BC Hydro's Grid as they will have to inspect the installation prior to approval. 
Battery Storage VS Grid Tied: As mentioned above, if you plan to tap into the Grid with your PV system, BC Hydro requires an inspection of the unit's installation. Whereas, if you are planning to store your own power in a battery like the Tesla Powerwall, you don't require additional inspections. However, these home-based batteries come at a cost ($5,000 - $7,000 according to Energy Sage). 
Professional Installation: Having a professional perform any electrical-based project in your home is a must to ensure that the project is done safely and will last a lifetime. Solar PV systems are no different. Contact the experts at All Coast Roofing to get your Solar Panel Installation Vancouver started today.
| | |
| --- | --- |
| | No Job Too Small |
| | Our roofing services include residential and commercial roofing, emergency roof repairs, gutter installation and cleaning, property maintenance, moss treatments, solar panel installation and more. |

| | |
| --- | --- |
| | Quality Guaranteed |
| | All Coast Roofing's commitment to excellence is highlighted by a strong BBB rating and many 5 star reviews online. Discover what our roofing clients have to say about our work today. |

| | |
| --- | --- |
| | Solar panel installers near me |
| | Servicing large parts of Metro Vancouver, our solar panel installation experts know what it takes to install a solar panel on roof over your head whether you're in Vancouver, Burnaby, or North Vancouver. |
Benefits of Installing Solar Panel
For every homeowner who's currently planning on replacing their roof, you must know that there's a lot of various reasons why you should consider installing solar panels on your top as well. Solar Paneled Roofs has been on the rise for years now, and it's getting more vital than ever for the environment and financial stability.
Roof Change and Panel Installation is Cheaper when Done at the Same Time
Are you planning on roof replacement for a while now? You may have an idea or estimate on how much it costs. If you don't, $10,000 is a reasonable estimate for all in roof exchange, and the average lifespan of roofs should last for about 20-50 years, depending on the type of material used.
On the other hand, fully installed solar roof panels in Canada could range from $12,000-$25000 or more depending on how large your house is, and price also varies in different locations.
However, an excellent option that you could have is the significant reduction in upfront cost when you decide to do both procedures at the same time from the same contractors or partner associations.
The reason for this is companies tend to give massive discounts for up to 30% or more on these situations, which could save you a lot of money and at the same time reap the energy-saving benefits of solar panel roofs for a long time.
Time and Effort Convenience
Another great thing about doing roof change and solar panel installation other than saving tons from upfront cost is it saves you some time and more convenience.
The reason being is Solar Panels could last for about 25-30 years, which is right about the same time as an average roof. This way, you won't have to worry about them separately, and you could think about them as regular home maintenance.
Significantly Increase Your Home's Value
Another excellent pro of having a house with solar panel installation is it directly impacts your home's value. One of the processes that will occur when you decide to sell your lovely home should you wish to transfer to a new one is the appraisers will come and estimate your home's valuation.
Research shows that Solar Panels directly impact how a house is valued and how buyers are willing to pay a premium of $15,000 or more for a home with Solar Panels installed.
Houses with Solar Panel Installations are much faster to sell and way more expensive than those who don't. You could think of it as an investment for indefinite plans.
Save Yourself from Electrical Bills
If you're looking to reduce your monthly utility expense, Solar Panels could not be any more perfect for you. An average homeowner with average energy usage could save up to 90% from monthly electrical bills.
This is a massive saving for you and could quickly get back your upfront cost from installation in no time. Another great thing about them is it works anywhere as long as there's a sun.
Massive Contribution in Saving Our Planet
As we all know, the state and livelihood we are currently living are not sustainable and continuously hurting our environment. This is why we should help in our ways, and in this case, Solar Panel Installation would be a massive contribution to preserving our environment.
The system works by getting pure Energy from the sun, the cleanest and most natural source we could have. Installing Solar Power Systems on your roofs then combats greenhouse gasses and significantly reduces our use of fossil fuels.
This is a good thing because our extensive use of Fossil Fuels is not only bad for our environment; it is also unsustainable as we only have a finite resource of them. The more we use these resources, the more they get harder to source as they get fewer, which will inevitably jump up to its prices. Save your planet, and save some money, a win-win situation.
Renewable Energy is Better for Health
If you think money is the only thing you could save when you go for Solar Panel Roofs, you couldn't be any more wrong. Renewable Energy such as Solar Power is a significantly better source for health than traditional energy sources.
The National Renewable Energy Laboratory discovered that solar panel installations have significantly reduced nitrous oxides, sulfur dioxide, and particulate matter emissions. This is an excellent thing because all of these reduced elements could cause various significant health problems.
If you're planning on learning more about Solar Panel and how much it costs, we highly recommend you check us out at All Coast Roofing. We are providing free estimates for Solar Panel Installations in Vancouver and various roofing services, eager to serve you for all your needs.

What Clients Say
Today, Dec 30th, our roof decided to spring a major leak, causing damage inside the house. A roofer was desperately needed to tarp our roof. I found All Coast Roofing online, which was very close to me. Alex, the owner of the company, contacted his crew to see if they could fit this project into their schedule today. Unfortunately that wasn't a possibility, but sensing the worry in my voice he came by himself to tarp our roof. He also added a few shingles to patch the main area causing the leak. From placing the phone call to the end of the job, less than 2 hours passed by! I can not express my gratitude enough to Alex for coming by immediately, doing the job and easing my worry. You can tell a lot about a company by how the owner conducts business. I have no hesitation in recommending this company for your roofing needs. Quick, efficient, knowledgeable, safe and will go above and beyond to satisfy you. All Coast Roofing…Alex…thank you and Happy New Year!

David Leask


Working with Alex is a dream. Not only does he answers calls and emails in a timely manner, he is one of the most respectful, professional and easygoing person to work with. We highly recommend him for your roofing needs and if you'd like someone trustworthy and delivers good results, you can count on All Coast Roofing to the job done.

george verdolaga

Get Roof Ready
 Visit Us
3478 Pandora St, Vancouver, BC V5K 1W8

 Call Us
(778)-229-0250

 Contact Us
office@allcoastroofing.ca