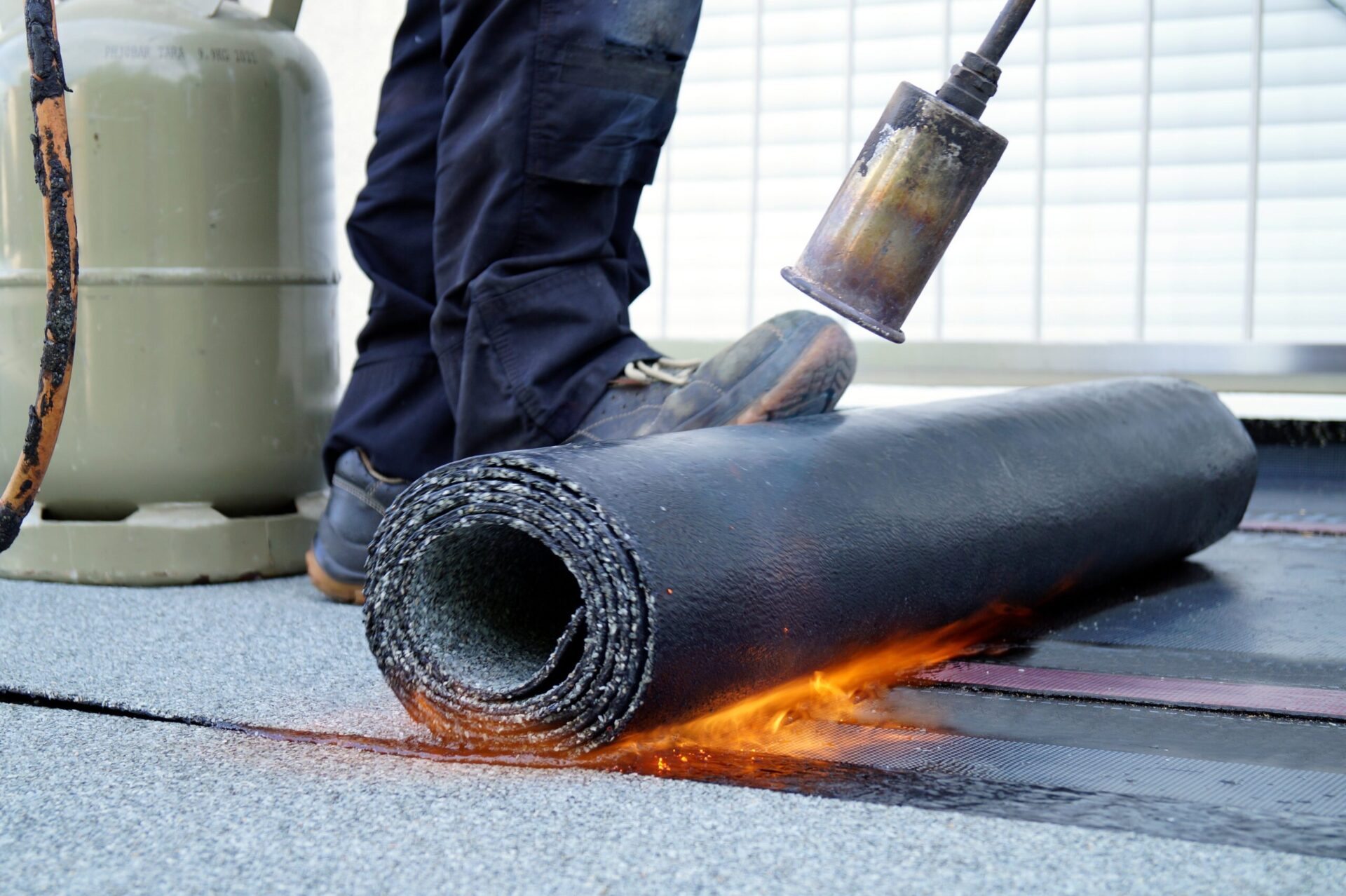 Want Torch on Roofing Service In Vancouver? 
Call Us for a Free Estimate Today.
How your local roofing contractors tackle the job
Torch on roofs are a popular choice of roofing type for homes with flat roofs as well as commercial buildings. Although, they can be used on a variety of other types of roofs including for property extensions, garages, as well as metal and concrete deck covers. Because the process of torch on roofing requires a lot of heat and fire, this technique is not best for those with wood trusses or wooden sub-structures even if they have been treated with flame retardant beforehand.
The torch on process involves three layers of bitumen sheeting that is melted onto the surface of the roof to create a waterproof seal that is virtually impenetrable to water. Torch on roofing accounts for a large subsection of roofing materials of homes throughout British Columbia, likely because of the waterproof nature of the technique and the amount of rain that our Province receives per year. Despite the heat and materials used in torch on roofing, the process doesn't cause an excess amount of noxious fumes; a stark contrast to older methods like the tar and gravel roofing. For those with low-sloping or flat roofs who are worried about snow and water build-up, a torch down roof is the key to peace of mind all year long. These roofing options are rated to last as long as 15 years, although occasionally some will require patching up after 8-10 years.
| | |
| --- | --- |
| | No Job Too Small |
| | Our roofing services include residential and commercial roofing, emergency roof repairs, gutter installation and cleaning, property maintenance, moss treatments, solar panel installation and more. |

| | |
| --- | --- |
| | Quality Guaranteed |
| | All Coast Roofing's commitment to excellence is highlighted by a strong BBB rating and many 5 star reviews online. Discover what our roofing clients have to say about our work today. |

| | |
| --- | --- |
| | Torch On Roofing Near You |
| | Servicing large parts of Metro Vancouver, our roofing experts know what it takes to keep a quality roof over your head whether you're in Vancouver, Burnaby, or North Vancouver. |

What Clients Say
Glad we found Alex and his team at All Coast Roofing. He was one of the only roofing companies on the North Shore to call back and luck would have it he would be in the area that week and so was happy to squeeze us in after another project. He is knowledgeable, professional, responsive, and even helped remove debris from our gutters free of charge. He also spent time inspecting the rest of the roof (after minor roof repair from leaky plumbing stack) and providing his opinion on what could be improved, when, and in order of priority. Will use again for sure and glad we stumbled across All Coast Roofing – would recommend. Thanks Alex and team.

Jean-Marc Daniel


Working with Alex is a dream. Not only does he answers calls and emails in a timely manner, he is one of the most respectful, professional and easygoing person to work with. We highly recommend him for your roofing needs and if you'd like someone trustworthy and delivers good results, you can count on All Coast Roofing to the job done.

george verdolaga

Get Roof Ready
 Visit Us
3478 Pandora St, Vancouver, BC V5K 1W8

 Call Us
(778)-229-0250

 Contact Us
office@allcoastroofing.ca