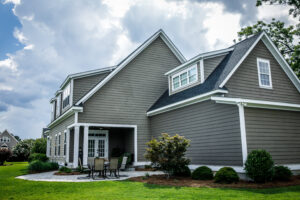 Putting a Good Roof Over Your Head.
Call Us for a Free Estimate Today.
How your local roofing contractors tackle the job
One of the most vital parts of our home is the roof. It keeps us safe and warm, especially at night. Although it's not just about having a roof over your head, the integrity of your structures is also needed to withstand any weather conditions that may come your way from heavy rainfall, strong winds, extreme heat, and heavy snow. You want a roof that lasts and won't show any early deterioration that may cause inconvenience for you and your family.
Aside from protection, roofing also provides a ton of value to your home as it highly impacts your curb appeal. This benefits everyone as your house will be in good shape for any potential buyer and may even impact an increase on the estimate substantially. Keeping your house structures in order isn't only for people intending to sell but also for everyone trying to maintain their lovely homes for as long as they can. Roofings that aren't maintained are usually the most common causes of early deterioration due to leakage, mold buildup, and other damages.
If safety and value aren't enough to consider putting a good quality roof, this one might just convince you. One of the most sought benefits of good roofing is its tendency to provide more energy efficiency. What happens is that fixing your roofing also solves underlying ventilation and leaking issues, which will positively affect your monthly electrical bills. Taking care of your home and keeping it in good condition with the help of good local roofing companies could also be one of the best ways to save you from a ton costs in the long run.
Best Roofing Vancouver
For those reasons, we at All Coast Roofing do our very best to be available to any household or commercial property around Vancouver. As one of the best roofing companies vancouver, we understand the value of having a good roof over our head that keeps us safe, we've never fallen short in satisfying every need and concern of our clients about their roofing situation. Finding the right roofing contractors will highly dictate the success of your next roofing project, which is why we are very confident in having trained professionals with years of roofing experience ready to work for you.
What our previous clients love about us and why they deem us as one of the best roofing companies Vancouver is the passion we have for our craft. We understand that it's crucial to keep an excellent-looking roof while backing it up with suitable quality materials so you'll know they can withstand extreme weather conditions. All this while keeping it along with your budget, you'll have enough for other projects. All Coast Roofing offers free estimates wherein we'll be able to pinpoint whether there is a need for immediate action, give out some suggestions based on our experience, and more. This allows you to gauge our services without paying for anything at all. So whether you're looking to completely replace your roofing or even minor roofing issues that are causing inconveniences, feel free to reach us out here at All Coast Roofing!
| | |
| --- | --- |
| | Quality Guaranteed |
| | All Coast Roofing's commitment to excellence is highlighted by a strong BBB rating and many 5 star reviews online. Discover what our roofing clients have to say about our work today. |

| | |
| --- | --- |
| | Roofing Near You |
| | Servicing large parts of Metro Vancouver, our roofing experts know what it takes to keep a quality roof over your head whether you're in Vancouver, Burnaby, or North Vancouver. |

What Clients Say
My contractor found All Coast Roofing to install our kitchen skylights! Alex was very professional and extremely fast at replying! He was keeping us informed in the whole process and was right on schedule as he promised! We were very happy with his service and his reasonable price! He also offered to fix the whole kitchen roof at a very fast turnaround! I would highly recommend him!

Jane Zhao


Alex was extremely professional and open about the work he recommended be done to our gutters. He sent me a quote and gave no pressure at all. The job was small, and they got most of it done in one day. They were prompt to respond to any questions. They even answered questions about other aspects of the house, and gave recommendations of cheaper options to do that did not involve themselves. I highly recommend this crew.

Sean Wiseman

Get Roof Ready
 Visit Us
3478 Pandora St, Vancouver, BC V5K 1W8

 Call Us
(778)-229-0250

 Contact Us
office@allcoastroofing.ca