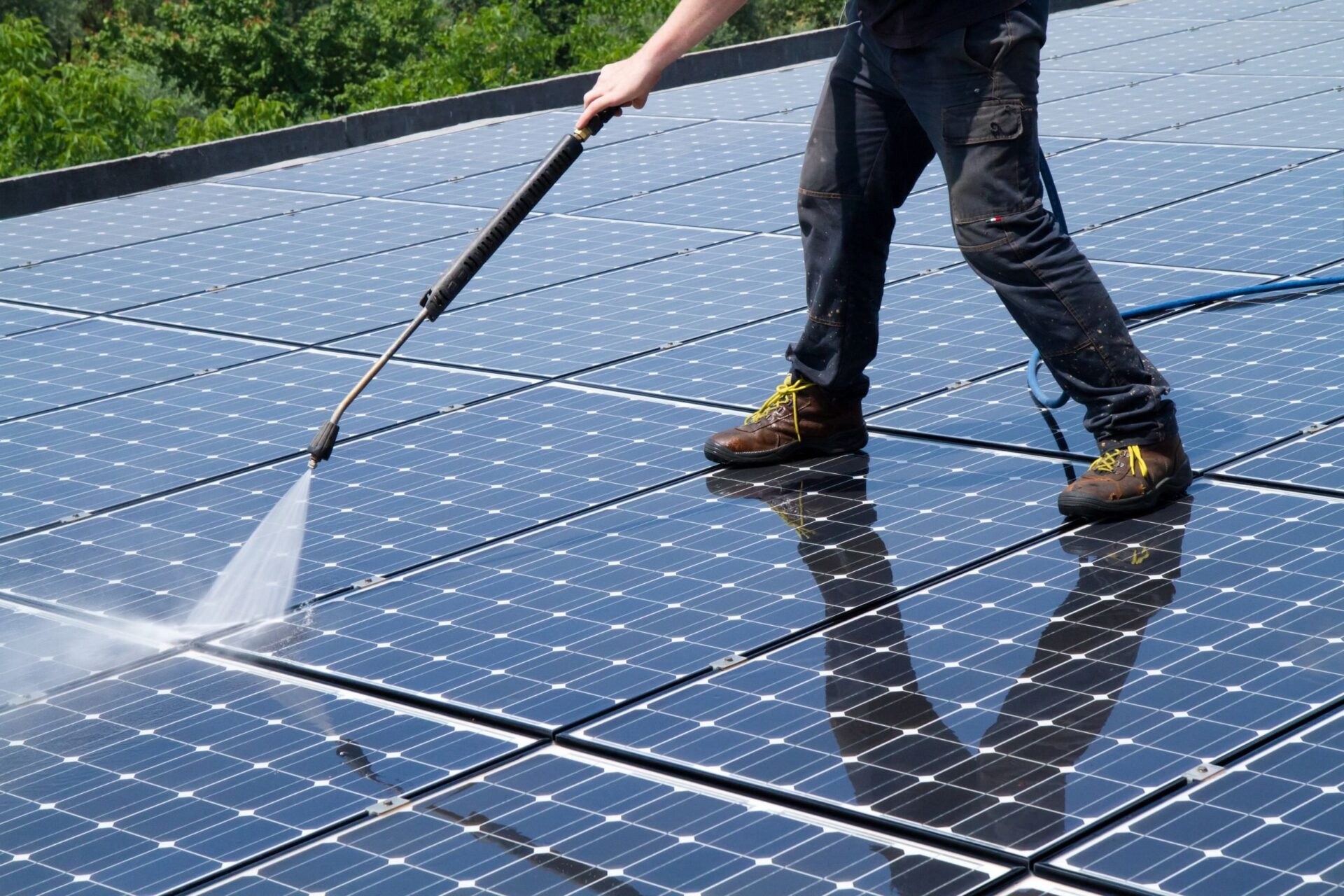 How to Clean Solar Panels On Roof
If not adequately maintained and cleaned, an air conditioner won't work as optimally as it should. Almost every piece of equipment and technology needs proper maintenance to keep its efficiency, and Solar Panels is not an exception to this rule. 
In this article, we're going to talk about the reason why it's essential to clean the panels, when it's required, how it's done, additional safety tips, and what's the best way of cleaning the solar panels installed into your roofs!
Why Should You Clean Solar Panels Regularly?
When you see trash on the floor, assuming that you're a well-organized homeowner, you will pick it up. It's because you understand that it will only get messier and harder to clean when you ignore it.
The problem with Solar Panels is it's easy to neglect them as you cannot practically see them that often and forget about them, assuming that they should work completely fine.
Yes, sophisticated technology such as a Solar Panel won't be that much affected by dust, but over time it builds up the more it becomes a problem. The thicker the dust gets, the harder it is to clean up because dust is not the only enemy you have. Any residues that might be blocking your solar panels could cause noticeable effects on your panel's performance.
How Maintenance Affects Solar Panel Efficiency?
Having regular cleaning and proper maintenance for your Solar Panels is crucial to maintaining their optimal performance and maximizing solar energy from the sun. More energy input means lesser headache caused by ramping electricity bills for you monthly.
Solar Panels have an average reduction of performance and output by about 4.4% caused by dust buildup for just a year. This number could even go higher by up to 20% or more if you live in a place that barely rains.
Cleaning Solar Panels won't just prevent performance reduction. It could also increase the efficiency of energy production by up to 10% from its standard output. This saves and earns you money, which is what every homeowner wants!
So When Should You Clean Them?
Now that you've learned the importance of proper maintenance of residential systems such as Solar Panels, let's talk about knowing when it's the perfect time for cleaning.
There's a lot of things to consider when deciding to clean, such as the climate of the country you're in, whether it's the dry or wet season. But the rule of thumb when it comes to maintenance frequency is twice a year or once every six months.
This period and cleaning frequency should be enough to maintain your panels efficiently. Another trick is to time your cleaning, preferably after winter and summer, as these seasons leave more residue and may need some cleaning up after.
Simple Guide for DIY Solar Panel Cleaning
Cleaning your Solar Panel is optimally done by professionals, but you could also do it yourself by just following a few simple steps.
Prepare the Required Items to Clean the Panels
Garden Hose

Soapy Water 

Cleaning Solution

Soft Bristle Broom

Plastic Scraper

Extension Poles

Gloves

Leaf Blower

Extension Ladder
Spray off the panels with your garden hose
Rinsing off any unwanted particles by spraying using your garden hose makes it easier for you on the scrubbing process. Make sure to keep every panel surface wet.
Scrub Each Panel Using Your Soft Bristle Brush
Go through each surface panel with soft brushes to keep it clean and remove and bird droppings, dust and dirt buildup, or any residue from the surface that's keeping them inefficient.
Scrape Each Panel Surface After Brushing
After you wash and brush each panel, gently scrape panel surfaces. Be careful to prevent any damages and only scrape what you can reach.
Rinse Off Any Remaining Residues
After scraping, use your garden hose to rewash the whole surface to rinse any remaining residues that you eliminated from the brushing and scraping process.
Repeat the Whole Process If Deemed Necessary
Some panels are easier to clean the others. Gauge by yourself on how much cleaning you need to do, and repeat the whole spray-scrub-scrape-rinse process if deemed necessary.
What is the Best Way to Clean Solar Panels?
Cleaning solar panels installed through your roof can get done by yourself. Still, the best option is letting the professionals do their work as solar installers, and roofing contractors know more about cleaning them optimally to maintain the efficiency of solar power performance.
How Do You Know If the Professionals Did A Great Solar Panel Maintenance Job?
Just because you're hiring a professional means, they will do a great job. You still have to check on them while they do the manual labor for you. Make sure they won't leave any residue or unwanted particles after cleaning your panels. 
Monitoring the performance of your solar power before and after cleaning is also a great indication that the solar panels are properly maintained.
Additional Safety Tips for Cleaning Solar Panels On Roof
Some roofings are way steeper than usual. If this is the case for you, doing it yourself might not be a good idea. Call a

professional

if necessary.

Using an extension ladder with stabilizers is way better than A-Frame ladders when climbing onto roofs for safety purposes.

Hot Panels may crack when you use cold water to spray on them. Better to avoid cleaning them when it's hot than risk any damage.

The most optimal time to clean your solar panels installed on the roof is early morning or late at night to catch that cool temperature.
Takeaways
Incorporating Solar Panels into your homes is a great way to utilize renewable energy and reduce monthly electric bills. However, making sure that it is performing as optimal as it should be is essential to get your money's worth and prevent any need for significant repair in the long run.
If all these were helpful and you ever wondered where you could find a service provider that will efficiently clean your panels. We highly recommend checking us out at All Coast Roofing today!